Construction
The building bricks of success come from strength, planning and commitment. The Zawaya construction team draws on a portfolio of diversified projects that give strength to each of their future developments.

Construction of Villas
We Know that home is where the heart is and we put our hearts into making your house a home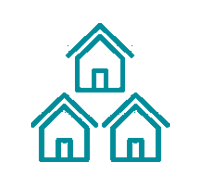 Construction of Compounds
A developing trend in residential needs has seen successful delivery of space-efficient compounds that offer a sense of community whilst retaining the privacy required in this cultural considerate market

Construction Warehouses
Whilst seeming a simple use of space, we understand the diverse needs of warehouse usage depending on industry and location

Construction of Buildings
Larger buildings need substantial experience supported by communications, quality control and high safety standards. Zawaya Contractors boasts a strong track record in delivering mixed and single-use buildings to a broad range of clients.
DESIGN
As clients push their expectations of a building, so the Zawaya design team stays at the forefront of contemporary design methods which are based on the brief of the client.
The team brings influences from around the world whilst maintaining a strong respect of local parameters.
INTERIOR & FITOUTS
Once inside a Zawaya project the attention to detail and the loyalty to the overall design can be seen in the natural flow and the keen eye for form and function.
All aspects of properties are fitted out using materials that meet or exceed user needs and expectations and ensure a unique desirability.
REALESTATE
Zawaya Earned hearts and trust having a variety of properties which each have their own unique design aesthetic providing an aspirational lifestyle in Muscat with a focus on design excellence, build quality and timely delivery.
ELECTROMECHANICAL
Everything must work all of the time when it comes to dependency on electrical supplies, air-conditioning and the infrastructure framework that makes a property desirable for the long-term.
Zawaya engineers work closely with the construction and contracting teams to ensure a smooth flow of trusted output.
FINISHES & FITTINGS
First impressions count, and for a Zawaya property it is that initial contact when a third-party walks through the door and sees the difference, feels the difference and senses the difference.